Civil Rights Reporter Recalls Her Time Spent With Dr. King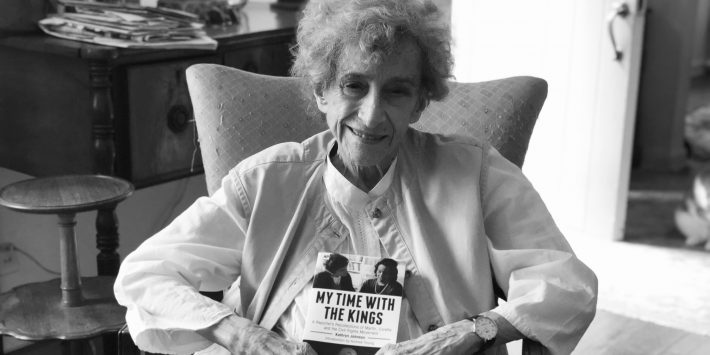 Play story
Journalist Kathryn Johnson got the assignments that no one else wanted. She worked for The Associated Press beginning in the 1950s, but felt that they really didn't want a woman on staff.
"It is different today, but then, we (women) were not wanted," Johnson told WABE's Rose Scott.
The AP sent her to news conferences and demonstrations — the stories she said the experienced reporters didn't want to cover. But that's how that's how Johnson met Dr. Martin Luther King Jr. and his wife, Coretta Scott King, and became one of the few women who covered the civil rights movement.
On "Closer Look," Johnson recalled spending time with the Kings at their home after covering one of his marches.
"(After the march,) Dr. King said to me, 'This is a dangerous section of town at 11:30 at night,' and he said, 'let me escort you to your car,' which was only about two blocks away," Johnson said, noting she then offered to drop King off.
Upon arrival, Coretta met them at the door, and Johnson was invited inside.
"We sat around at the dinner table — dining room table — we're talking, and that's when I realized what an incredible leader he was," Johnson said. "He talked about the longing and the hopes and dreams of his people, and he expressed the anguish and that cry for human dignity and was brilliant. From then on, I had great access to him. He'd call me by Kathryn, and he had a habit of never calling reporters by their first names."
Recalling The Day That King Was Assassinated
On April 4, 1968, Johnson heard while on a date that Dr. King had been assassinated in Memphis, Tennessee.
"I heard that he had been shot, and we were both stunned," Johnson said. "He and I were just sort of locked in our own thoughts."
Johnson's date drove her to King's house. She said the front lawn was filled people, including some reporters and police. Coretta spotted Johnson and let her inside. She sat in a room with Coretta, and the Kings' daughter, Yolanda, while they watched the coverage on TV.
"I would say that (Coretta) was a remarkable woman, very composed and self-assured," Johnson said. "To continue (Dr. King's) legacy — that was on her mind from the very beginning."
Reflections On The Civil Rights Movement
"I was transformed by the movement," Johnson said.
She grew up in Columbus, Georgia, and attended all-white schools.
"When I got to know King and heard him talk, you know, I was shocked because I didn't understand, I never heard all that before," Johnson said.
She said his message changed her completely — and very quickly.