The Georgia Governor Who Refused To Attend MLK's Funeral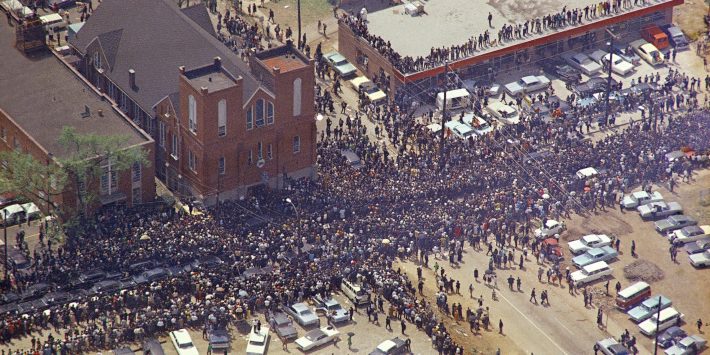 In My List
President Lyndon B. Johnson declared April 7, 1968, three days after the assassination of Dr. Martin Luther King Jr., a national day of mourning.
Following the initial funeral at the R.S. Lewis Funeral Home in Memphis the day after King was killed, there were to be two funeral services held for King in his hometown of Atlanta on April 9.
But there was one Georgian who would not be attending, watching from home or paying his respects — Gov. Lester Maddox.
The first funeral for King was in Memphis on April 5 and was conducted by R.S. Lewis, Jr. who had met King for the first time only a few days earlier.
Lewis was personally selected to prepare King's body for viewing. R.S. Lewis Funeral Home, a successful local African-American business, held King's body in state in an open casket made of bronze.
Mourners took turns crying, touching and reportedly kissing King as they passed in procession through the funeral home.
National Guardsmen and local law enforcement would escort King's body to the airport for his final flight home.
In Atlanta, then-Gov. Lester Maddox refused to attend either of King's funerals. He wouldn't even recognize King's death in the eyes of the state.
Maddox was a known segregationist. In 1965, when he was ordered by United States District Court Judge Frank A. Hooper to either close his business or serve African American customers, Maddox chose to close his restaurant, Pickrick.
Maddox made his feelings about King and the entire civil rights movement clear ever since long before he was elected to lead the state in what was then the closest election in the history of the state. Maddox won the Democratic nomination over Ellis G. Arnell and then defeated Howard H. "Bo" Callaway despite having less votes (449,894 to 448,044).
The decision went to the Supreme Court before becoming official on Dec. 5, 1966.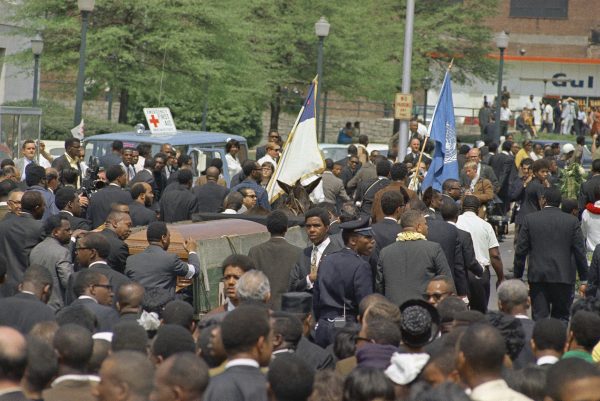 King's Funerals
The first funeral for King in Atlanta was held at the Ebenezer Baptist Church in the heart of what was then referred to as the Sweet Auburn Avenue district, named so for it's robust black businesses, churches, restaurants and nightlife.
Today only the churches and few business remain but back in 1968 the upper crust of African-American Atlanta lived and played there. On April 9, the city were burying a native son. Both Dr. King and before him his father, Rev. Martin Luther King Sr., served as senior pastor at Ebenezer Baptist, and it was destined to be the first place King's body would rest upon crossing state lines into Georgia.
The funeral began at 10:30 a.m. and was attended by King's wife, Coretta Scott King, his four child; Yolanda (12), Martin Luther III (10), Dexter (7) and Bernice (5), along with King's parents, Rev. and Mrs. King, his sister, brother-in-law and assorted guests and colleagues.
King's casket would famously be pulled from Ebenezer Baptist Church to Morehouse College on a wagon by two mules. Ever the simple man, even in death King would send a powerful message without pomp or circumstance.
A Powerful Message
Maddox would send a powerful message as well. Upon learning of King's multiple funerals and the expected crowds that were most certainly going to attend to pay their respects he did not take a lesson from President Johnson and from Pope Paul VI who called for "calm  and respect for brotherly love" while referring to KIng as "a Christian prophet for racial integration" and call for a statewide day of mourning in respect for King.
Maddox, instead of honoring King, refused to close the state government for the day and instead ordered 64 state troopers to guard the state capitol to better protect what he called "property of the state".
The riots that took place around the country immediately after King's death, most notably in Detroit, Michigan; Newark, New Jersey; and Baltimore, Maryland, never took hold in Atlanta. The lack of rioting in Georgia's state capitol was born of respect for King's non-violent methods and campaign.
Tens of thousands of people lined the streets to witness King's silent procession from Ebenezer Baptist to Morehouse College, passing by the state capitol, where a public service was held. King was eulogized by Morehouse College President Benjamin Mays and buried in the South View Cemetery. More than 200,000 would be a part of the funerals in total over the four days.
It would be nine years before King's remains would be exhumed and brought to his final resting place on Auburn Avenue in what is now the King Center where Dr. King and Mrs. King are buried.
Maddox would never publicly apologize for his stance and passed away some 35 years later in Atlanta. The memory of Dr. King's funerals and the impact they had on the cities of Atlanta and Memphis however live on.