PHOTOS: MLK's Legacy In Higher Education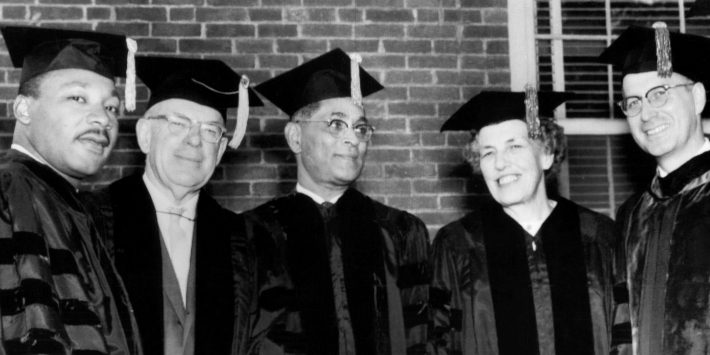 In My List
Education played a large role in Martin Luther King Jr.'s life. In 1944, King graduated from Atlanta's Booker T. Washington High School, according to the New Georgia Encyclopedia. Growing up, King attended segregated schools in Georgia.
At age 15, he began his studies at Morehouse College, following in the footsteps of both his father and grandfather, who also attended Morehouse. During his time at Morehouse, he penned an entry for the student newspaper, The Maroon Tiger, on the importance of education.
"We must remember that intelligence is not enough. Intelligence plus character — that is the goal of true education. The complete education gives one not only power of concentration, but worthy objectives upon which to concentrate," King wrote in 1947, according to the King encyclopedia.
King graduated from the Atlanta college in 1948 with a Bachelor's degree in sociology. Two years later, in 1951, King received a Bachelor of Divinity degree from Crozer Theological Seminary in Pennsylvania. During his time there, he was elected president of his predominately white class, according to The Nobel Peace Prize website.
Upon graduation he enrolled in Boston University's School of Theology, according to the King encyclopedia. It was in Boston that he met his future wife, Coretta Scott.
He completed his doctorate work in 1953 and received the degree in 1955, according to the Nobel Peace Prize.
"The function of education, therefore, is to teach one to think intensively and to think critically. But education which stops with efficiency may prove the greatest menace to society," King wrote as a young student at Morehouse. "The most dangerous criminal may be the man gifted with reason, but with no morals."