Remembering Coretta Scott King And Her Role In The Civil Rights Movement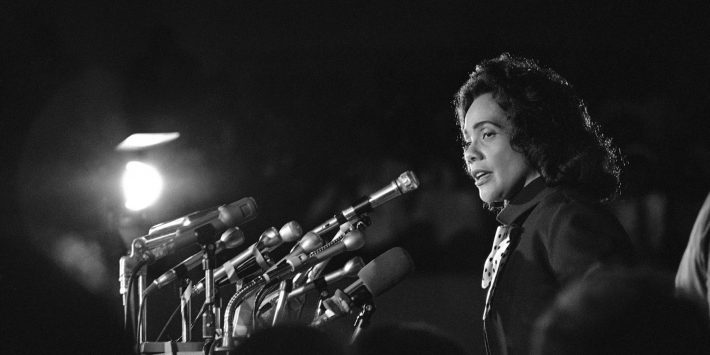 In My List
This year, Atlanta — and the world — is remembering the life and legacy of Martin Luther King Jr., as April 4 will be the 50th anniversary of his assassination in Memphis, Tennessee.
King was a bold orator and social activist, but he did not work alone. Many advisers, like Ralph Abernathy, organized demonstrations with him, and others like Bayard Rustin schooled him in nonviolence. He also had the support of other ministers at the Southern Christian Leadership Conference, but one cannot overlook the support of his lifelong partner, Coretta Scott King.
However, her legacy is one of more than a supporter. After her husband's death, she carried on his legacy and established one for herself by pressing forward in the fight for civil rights.
On Jan. 15 this year, the Kings' youngest daughter Bernice put it this way in a tweet: "As you honor my father today, please remember and honor my mother, as well … Without #CorettaScottKing, there would be no #MLKDay."
As you honor my father today, please remember and honor my mother, as well. She was the architect of the King Legacy and founder of @TheKingCenter, which she founded two months after Daddy died. Without #CorettaScottKing, there would be no #MLKDay. #MLK50Forward #MLK pic.twitter.com/qhwSnX9Qmh

— Be A King (@BerniceKing) January 15, 2018
Who Was Coretta Scott King?
Coretta Scott was born in Marion, Alabama, on April 27, 1927. Her parents, Obadiah and Bernice McMurray Scott, were farm owners who wanted the best education for their children, according to the King Institute at Stanford University.
Coretta attended Lincoln High School in Marion and took an interest in music. She learned numerous instruments and took voice lessons, according to the King Institute.
She graduated valedictorian and went on to study music at Antioch College in Yellow Springs, Ohio, according to the King Center in Atlanta. Later, she studied concert singing at Boston's New England Conservatory on Music and received a degree in voice and violin.
In Boston, she met Martin Luther King Jr., who was studying for his doctorate in systematic theology at Boston University, according to the King Center. The couple married on June 18, 1953, and moved to Montgomery, Alabama, in September 1954.
'One Voice In One Song'
Both Coretta and Martin were fully committed to nonviolent social activism and seemed to shape their lives around the cause.
During her husband's career, Coretta spent much of her time looking after their four children, according to the King Center. She participated in movement work, including speaking before church, college and other advocacy groups. She also used her musical gifts to organize a series of "Freedom Concerts" to raise money for the SCLC.
When Martin travelled to Ghana for its Independence Day; India to be visit the followers of Mahatma Ghandi; and Norway to receive the Nobel Peace Prize, Coretta accompanied him.
"Dr. King and Coretta King was really one voice in one song," said Coretta's biographer, Rev. Dr. Barbara Reynolds, last year on WABE's "Closer Look". "They were really partners in the movement."
Reynolds, who in addition to being a journalist, was a close friend of Coretta's, was the only person Coretta trusted with co-writing her memoir titled, "My Life, My Love, My Legacy."
Continuing The Civil Rights Work
The end of Martin's life on earth did not mean the end of the movement for Coretta. Only days after her husband's death, Coretta led a march for sanitation workers in Memphis, Tennessee, according to the King Institute.
She stood in for her husband at an anti-Vietnam War rally in New York and helped launch the Poor People's Campaign in May 1968.
In Atlanta, she founded the Martin Luther King Jr. Center for Nonviolent Social Change, also known as the King Center.
Around this time is when Reynolds had met Coretta for the first time.
"She had a blueprint, and she talked about her vision for the King Center and how she would make the birth home a historic district," Reynolds said. "And I said to her, I said, 'Well, uh, Mrs. King, how are you going to do that? Do you know anybody else who's done it? How are you going to do that?' And she said, 'the Holy Spirit will guide me."
Reynolds said Coretta also stood up for her own rights as a woman.
"She never called herself a feminist, but she was a feminist who stood up for her rights," Reynolds said. "She had to fight the male preachers around her as much as she had to fight society at large."
Coretta also addressed gay rights.
"For many years now, I have been an outspoken supporter of civil and human rights for gay and lesbian people," Coretta said in 1998 at the 25th Anniversary Luncheon for the Lambda Legal Defense and Education Fund, which fought for equality for gays and lesbians in the courts, according to the Chicago Tribune. "I've always felt that homophobic attitudes and policies were unjust and unworthy of a free society and must be opposed by all Americans who believe in democracy."
Coretta's Faith
It's hard to overlook the role that Christianity played in the Kings' lives.
Martin served as a pastor at Dexter Avenue Baptist Church in Montgomery and at Ebenezer Baptist Church in Atlanta. In his book, "Stride Toward Freedom," he said that "the Christian doctrine of love operating through the Gandhian method of nonviolence was one of the most potent weapons available to oppressed people in their struggle for freedom," according to the King Institute at Stanford University.
Coretta was a strong Christian as well, according to Reynolds.
At the time that Reynolds met Coretta, Reynolds said she was not that much of a Christian, but Coretta ended up becoming her mentor.
"She mentored me without really my thinking she was mentoring," Reynolds said, now an ordained minister. "She was a strong Christian. I mean I traveled with her for years. In the morning, we would read the Bible before we did anything."
"She always talked about suffering as redemption," Reynolds added. "I didn't understand that at the time, but I do know."
After Martin's death, civil rights laws were passed and the climate in the South began to change, Reynolds said.
"Dr. King, the movement he led went on for 13 years while he was alive," Reynolds said, "but Mrs. King went on for 38 more years."